Protect Your Substation Infrastructure
Communications Equipment & Power System Protection Solutions
NEW: Dual Channel
C37.94-to-T1 FSU

Communications Equipment
The new C37.94-to-T1 FSU is designed to convert any application devices with standard IEEE C37.94 compliant Short-Haul Fiber signals to an electrical T1 signal. The C37.94-to-T1 FSU is the perfect cost-effective solution to transport any industrial application devices reliably over an existing communications network, DS-1 Line or Leased T1 service. The unit also comes with a non-standard Single-mode LED as an option for longer distances.
GARD Pro™ PLC

Protection System
The GARD Pro™ Power Line Carrier system is built on our proven GARD 8000® hardware platform, but boasts a completely new, web-based user interface & Touch Screen Display (TSD) that make the unit easy to configure, commission, and monitor your system quickly and efficiently.
Now supports DNP3 and SNMP remote management protocols for integration with management systems.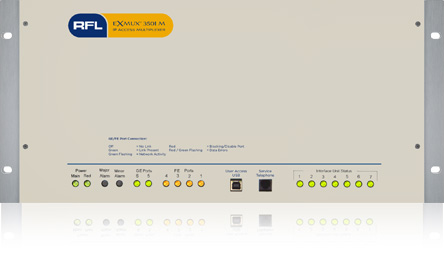 eXmux® 3501M

Communications Equipment
The RFL™ EXMUX® 3501 is a substation-hardened IP Access Multiplexer engineered for mission critical infrastructures.
---
Product Notices
• The RFL™ 9745 Audio Tone Teleprotection system is expected to no longer be available for purchase as of August 1, 2019.
For additional details, please reference Bulletin PO-019.
For More Information, Contact RFL™
973.334.3100